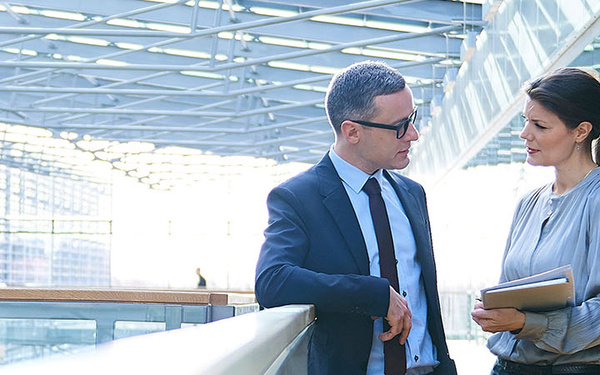 Employment and Social Security Law
Employment and Social Security Law in tomorrow's world – the flexible and innovative approach
Increasing internationalisation and advancing digitalisation are leading to new forms of cooperation that require innovative approaches in employment law. Our lawyers at PwC Legal offer strategic, cross-border and interdisciplinary legal advice ranging from individual employment law issues to entire litigation. We analyse your employment law issues from a business perspective, and work with you to develop practical solutions with clear recommendations for action – embedded in comprehensive project management expertise. Our experts not only help negotiate reconciliation processes and social plans. You will be supported by our experts from the Social Security Law Team in all matters of social security law.
How can legal and HR processes be designed in a legally secure manner, from classic labour law issues – for example, hiring – to complex restructuring or the implementation of the Whistleblower Protection Act (Hinweisgeberschutzgesetz) via an internal reporting channel, to new forms of work such as New Work? Our experts focus on ensuring compliance with labour law, advise you on these and all individual and collective law issues pertaining to traditional labour law, and will also represent you in court in all instances.
This is how PwC Legal supports you
Our lawyers advise you on:
Drafting employment contracts, notices of termination, warnings and references
Questions regarding employee co-determination rights and dealing with the works council
Ensuring compliance with labour law when introducing flexible and innovative working models such as cross-border work, cross-border matrix structures and home office work (New Ways of Work) or questions concerning temporary employment and the minimum wage, or when setting up (or optimising) a legally compliant time recording system, through to job advertisements and the implementation of application procedures – including employee data protection
Designing working time and remuneration models
Conclusion of in-house collective agreements and negotiation with trade unions
Conducting resolution proceedings and conciliation board proceedings
Occupational pension provision
The efficient conceptualisation of occupational pension schemes often becomes a challenge for companies. The sustainable management of costs and risks pertaining to pension obligations is of central importance. Given the complexity of pension systems and the abundance of regulatory requirements, competent legal advice is needed for the necessary optimisation measures. Our experienced team of legal advisers supports you with tailor-made solutions relating to all pension issues – from strategic planning, to the implementation of occupational pension measures.

Our clients benefit from our 360-degree advisory approach, in which we work closely with our tax and accounting experts at PricewaterhouseCoopers GmbH Wirtschaftsprüfungsgesellschaft (PwC) to ascertain tax-optimised solutions and shed light on actuarial aspects.
This is how PwC Legal supports you
Our lawyers advise you on:
Design and introduction of pension commitments and pension schemes on the basis of individual contracts or collective bargaining law
Drafting of pension commitments for board members, managing directors and senior executives
Legally secure implementation of benefit changes and interventions in existing pension schemes, as well as in the event of a change in the previous implementation mode for an occupational pension scheme – including the outsourcing of pension obligations
Legal matters relating to occupational pension schemes in corporate transactions (pre- and post-merger) and carve-outs
Adjustment review and decision regarding the legally secure implementation of current occupational pensions
Establishment of supplementary insolvency insurance measures
Public collective agreements and the corresponding supplementary pension funds
Introduction of working time accounts and part-time work for older employees
In corporate transactions and restructuring efforts, labour law requires especially close attention. For example, the question of whether a restructuring preceding the acquisition of the company should lead to a transfer of business or not can influence the purchase decision just as much as the question of whether an asset deal or a share deal should take place. A well-thought-out transfer of employment relationships – taking into account the relevant legal provisions – is, therefore, one of the most important steps for a successful company takeover. With labour law due diligence, all pertinent opportunities and risks can be accurately assessed and thus fed into relevant negotiations. Our team remains at your side here and in all other transaction phases.
This is how PwC Legal supports you
Our lawyers advise you on:
Key HR milestones in the context of a carve-out
Conducting due diligence efforts from a legal and HR perspective (buy-side & sell-side)
Support for SPA negotiations
Integration planning after closing
Support during post-merger phases
Aspects of employee transfer
Creation of retention plans for employees
Identification of leadership competencies and key roles
Preparation of communication plans for key stakeholders
Calculation of severance costs
This is how PwC Legal supports you
Our lawyers advise you on:
(External) staff deployment and the performance of status determination proceedings
Process design for the use of independent contractors
Settlement issues
Social security review and drafting of service contracts
Extra-judicial assertion of claims under social security law
Conducting application and opposition proceedings, as well as appeal and resolution proceedings
Social and fiscal court proceedings and representation before all authoritative entities
Negotiation proceedings with social security institutions
Enforcement of corporate and commercial transactions, and the detection of social security risks in connection with deals
Reorganisation and restructuring
Labour law aspects play a major role in nearly all reorganisation and restructuring projects. Our experienced lawyers will assist you with all employment law issues in connection with mergers, acquisitions, restructuring efforts, reorganisation proceedings, disposals or relocations of permanent establishments.
We will support you from the planning phase to the implementation of the planned reorganisation and restructuring efforts – including negotiations with the works council and trade unions.
This is how PwC Legal supports you
Our lawyers advise you on:
Carve-out planning
Conducting efficiency and synergy analyses
Development of (transnational) staff reduction concepts and the calculation of the necessary budget
Planning the target organisation from the point of view of labour law
Development of communication strategies
Social selection
Aspects of interest reconciliation and social plan negotiations, as well as in project management
Steering operations transfers
Setting up transfer companies and calculating the expected costs
Representation before the conciliation board
Support in (mass) dismissal protection proceedings
SE incorporations
Support in regular insolvency proceedings and self-administration proceedings
Preparation of proprietary redevelopment concepts and purchaser concepts
Business and IT transformation
Business and IT transformation programmes raise a variety of co-determination and data protection issues. When companies quickly adapt or change their business models and working conditions to the market situation via software and apps, works councils have enforceable co-determination rights vis-à-vis the employer.
We accompany businesses operating on digital platforms along their exponential path to growth, and ensure that labour and data protection regulations are complied with in the process. Through a coordinated communication strategy with the works council, we enable the smooth introduction of digital workflows.
We support HR departments – both from a legal and operational standpoint – in the introduction of agile business models, where directives are often issued virtually, and the workplace is moved to the public sphere. We take a preventive look at the core processes of business operations, and develop a conflict management approach with the works council.
This is how PwC Legal supports you
Our lawyers advise you on:
Safeguarding the far-reaching rights of co-determination and employee data protection
Taking over work packages from your HR and Legal departments
Implementation of your agile business model based on a global IT infrastructure, as well as country-specific configurations and processes
Visualisation of the work results and creation of Executive Summaries and Dashboards in real time for your C-level as a decision-making template
Accompanying the introduction of cloud software, apps (including HRIS, Payroll, Time & Attendance), which already trigger co-determination rights during the piloting phase
Supporting your managers from the HR, Legal and IT departments to successfully negotiate co-determination rights from an analogue past in the digital future in a structured and prioritising way
Preventive measures to avoid conflicts between stakeholders
If necessary, representation of your interests before labour courts and in conciliation boards
Monitoring of legal developments by the European Commission to improve the working conditions of people working via digital labour platforms
If required, provision of the above services within the framework of managed services
Our digital tools support you quickly and reliably in achieving your corporate goals, be it a transformation, the flexible deployment of personnel or compliance guidelines.
We offer the following digital solutions:
Whistleblower and Ethics Reporting Channel: Standardised and digital solution for the establishment of a whistleblower system and operation of an internal reporting office as a managed service
HR Analyst: Our reliable, cloud-based HR planning tool for transformations and restructuring efforts
Quick-Check Freelancer App and Analyst: Quickly distinguish freelancers from dependent employees.
Workforce Risk Management
With our Workforce Risk Integrated Solution, you can adapt your company quickly and legally compliant to changes in the market environment. In today's complex and volatile world, workforce strategy increasingly determines corporate success – not only in achieving economic goals, but especially in setting new standards in corporate sustainability in line with corporate purpose.
Finding the right mix between technology, productivity and efficiency – while keeping in mind the workforce – is the key to success. Answers must also be found to the challenges of New Work, geopolitical changes and tighter regulation. A forward-looking, proactive approach that takes into account regulatory requirements and compliance with regard to your employees strengthens your reputation as an attractive employer, leads to the right skillsets among employees and facilitates access to the capital markets.
Holistically assessing the future viability of employees and the HR function is particularly important when new board members or directors need to get a quick overview, the company is looking to expand into new markets and/or business areas, or major transformations or deals are planned. Other triggers can be, for example, new risk and compliance regulations, the introduction of new technologies and internal audit reviews.
This is how PwC Legal supports you
Our lawyers advise on:
Comprehensive compliance audit or individual areas with regard to all compliance-relevant HR topics such as ESG, working time recording, freelancers, holiday entitlements, collective agreement compliance, employee data protection, appropriateness of works council compensation, or whistleblower protection law

Digital reports in real time with results of the compliance audit and recommendations for action

Implementation of preventive measures (e.g. training of managers and employees, establishment of reporting lines, introduction of software, use of tools)

Regular updates on HR compliance-relevant changes in legislation and case law

Support with internal and external communication (statements to staff, works council, company bodies and press)

Implementation of safeguarding measures (e.g. termination, works council hearings, defence against actions for unfair dismissal, claims for damages)

Lessons learned with the client and development of preventive measures / HR compliance system (creation of guidelines, company agreements and training of managers and employees)