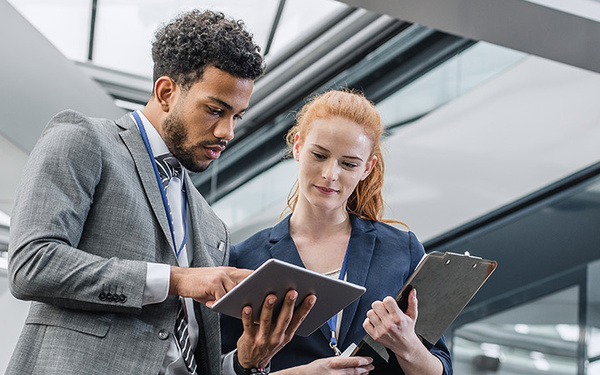 Making sure you don't get caught out: customised solutions for purchasing, sales and procurement
Purchasing, procurement and sales as operational corporate functions are becoming increasingly important due to current global developments. Our legal advice within these disciplines combines precise knowledge of the respective country-specific jurisdiction with profound industry expertise. We also offer customised solutions in the areas of compliance and EU sales law, as well as in the establishment and development of business models in digital business. We also support you in implementing the necessary measures and processes, in order to meet the requirements of the Supply Chain Sourcing Obligations Act (LkSG).
When setting up purchasing and distribution structures for tomorrow's business world, many companies operate at interfaces with various legal areas, such as general commercial and distribution law, IP, IT, compliance, licensing law, cybersecurity and data protection. This also applies, in particular, to online sales, which are becoming increasingly important. We support you – thanks to our global network – in the legally secure design of business models and the negotiation of important contracts, as well as the enforcement and defence of claims stemming from contractual, liability and commercial disputes.
This is how PwC Legal supports you
Our lawyers advise you on:
Complex supply contracts, supply chain contracting and commercial contracts of all kinds (including manufacturing, purchasing, sales, marketing, advertising, transport and logistics, leasing and licensing)
Distribution agreements – including agency and authorised dealer agreements
Cooperation agreements, especially in the technology sector
Research and development contracts
Framework contracts, standard contracts and general terms and conditions (GTCs)
National and international consumer protection law, product liability law, online distribution and e-commerce, as well as the requirements for platform business
Regulatory requirements for manufacturing, purchasing, sales, distribution, marketing, advertising, transport and logistics, as well as foreign trade law
Breaches of regulatory requirements
Disputes with contractual partners and authorities
With the entry into force of the Supply Chain Due Diligence Act (Lieferkettensorgfaltspflichtengesetz – LkSG) on 1 January 2023, German companies are required to create the framework conditions for a compliance-centric implementation as quickly as possible, and to ensure that human rights are observed along their entire supply chain. But how should affected companies deal with these new legal requirements? Companies with complex corporate structures and expansive supplier networks are often faced with the challenge of identifying and implementing the most efficient approach for implementing the extensive legal requirements. Our interdisciplinary team – consisting of procurement, IT, risk and change management experts, as well as process architects, project managers and lawyers – supports you with customised solutions in implementing the requirements of the Supply Chain Act, and developing accompanying training measures.
This is how PwC Legal supports you
Our lawyers advise you on:
Preparation of the policy statement, structuring and implementation of a risk management concept, the performance of risk analyses and the required documentation
Creation and implementation of compliance guidelines for adherence to the Supply Chain Act
Training concepts – ranging from fundamental training for all employees, to intensive training for departments with specific requirements (e.g. purchasing, compliance)
Analysis of existing processes and proposals for solutions to close possible legal gaps
Introduction and operation of a complaints management system
Dealing and communicating with authorities and other key stakeholders in the supply chain, including consumers, regarding regulatory requirements.