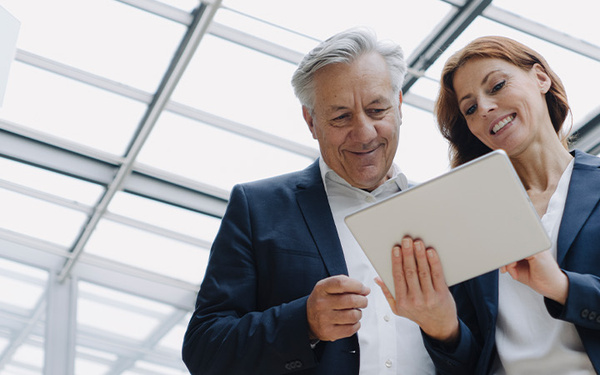 Rethinking business functions: Identifying optimisation potential and enabling growth
Many legal departments are facing major challenges: ever more complex business transactions must be managed with the need for constant, efficient resources. The pressure to optimise one's own operating model with a view to digitalisation opportunities and the use of legal tech is constantly increasing.
We provide holistic support to legal department heads and those responsible for legal operations for this transformation: with strategy and process consulting, we identify optimisation potential within the organisational structure and processes. With proven technology expertise and implementation skills, we help navigate the confusing legal tech market, and implement the right tools and systems for your individual situation.
In addition, we offer to support the relevant functions within the scope of the Legal Department in day-to-day business as required. On the one hand, this can include support in the sense of an extended workbench, but also the outsourcing of certain sub-functions or areas of activity, on another. Here, various options are available to our clients as part of our Managed Legal Services.
Strategy and Process Consulting for Legal Operations
The starting point for thinking about transformation is often organisational and not technical. Our experts combine competence in organisational consulting and change management with practical experience in typical processes in legal departments. From this, we develop an approach tailored to your individual challenges for a new operating model ("Legal Target Operating Model") that considers the corporate strategy and the goals and governance of in-house legal advice. One core component here is ascertaining the status quo with regard to activities, responsibilities and processes, and the derivation of corresponding sources of optimisation potential.
We then develop a long-term transformation plan ("Legal Operations Roadmap") for achieving the target state: this includes the definition of milestones and timetables, as well as the definition of project steps, including interdependencies and preconditions.
This is how PwC Legal supports you
Our advisers support you with:
Assessment and Activity Value Analysis
Identification of optimisation potential for a new operating model
Development of the Legal Operations Roadmap
Change Management
Legal-Tech-Consulting and Implementation
The legal tech market is highly fragmented and very dynamic. It is often difficult for legal departments to decide which system is the right one for their objectives in terms of a future operating model – not to mention its implementation. In contrast, the support provided by in-house IT is often insufficient due to a lack of resources.
Our experts introduce their specialised knowledge of the solutions and tools available on the market. We assess your level of technical maturity regarding a future operating model and support you in tenders and the selection decision. You can also rely on us for the implementation phase: with our implementation expertise, we ensure that the systems deliver the added value you expect in terms of your transformation, right from the start.
This is how PwC Legal supports you
Our advisers support you with:
Contract Lifecycle Management (CLM)
Intake Management
Matter Management
Automation
Contract Analytics
Legal Spend Management
Limited human resources in your Legal department lead to conflicts between day-to-day business, the optimisation of core processes and the completion of new tasks. If there are then peaks in demand, these can often not be processed.
Our range of Managed Legal Services offers you an opportunity to outsource selected functions of your legal department to us – whether you need us to provide short-term capacity on a special project, or to handle legal processes for the long term.
Through the intelligent use of the latest technologies and process automation, coupled with the experience of our consultants, we support you in optimising your processes and sustainably increasing your added value.
Specific work we can handle includes high-volume legal processes in purchasing, defence of class action lawsuits, and running your whistleblower process. As part of Managed Legal Services, we combine the expertise of PwC Legal and comprehensive technology solutions to design an efficient and tailored process that we can implement with the help of qualified lawyers in our Shared Delivery Centres.
We execute this process with professional project managers and provide you with real-time individualised status reporting. Through precise budgeting and daily cost tracking, we provide you with planning security and transparency.
This is how PwC Legal supports you
Our advisers support you with:
Corporate Governance Solutions
Whistleblower & Ethics Reporting Channels
Automated Processing Solution
Defence against class action lawsuits
Objection Management
Rule Scanner