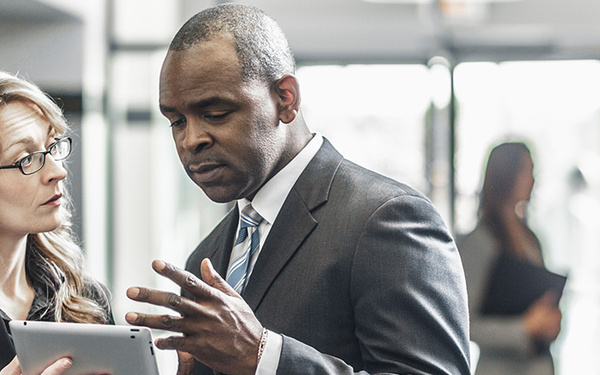 Insolvencies and Restructurings
Averting a crisis by legal means
Changes in the market environment, external events or entrepreneurial decisions that, in retrospect, prove to be incorrect can plunge companies into a crisis that threatens their very existence. Overcoming such a corporate crisis poses special challenges for all involved. The causes and trajectory, as well as the intensity of the crisis and the effects on the operative business and the continued existence of the company, are different in each case, and must be assessed individually.
However, every crisis has a few key things in common: a quick reaction on the part of those bearing responsibility, as well as the acquisition of the necessary know-how in dealing with the crisis, have a decisive influence on its further course, the effects on the company and the employees, as well as the continued existence of the company.
Modern insolvency law primarily pursues the goal of restructuring companies, preserving jobs and enabling the reorganised company to make a new start.
At PwC Legal, we provide you with our legal expertise in insolvency law and other related areas of law (e.g. commercial and corporate law, employment law, litigation, white-collar criminal law) to help you restructure your company. We have access to the international PwC network, and also advise on cross-border issues. Our clients benefit from the expertise of our specialists, as well as from our cross-sector and cross-market experience. We guide our clients safely through the crisis at hand. In doing so, we always take into account the interests of all stakeholders involved and ensure the best possible balance of any conflicting interests.
We won't leave you to fend for yourself

We see it as our task to safeguard the trust placed in your company, and to solve the relevant challenges. We at PwC Legal also face up to this challenge when a crisis situation impacts a company. Especially in economically challenging times, this principle is of paramount importance.
Self-administration and protective shield proceedings (proceedings under the ESUG)
With the self-administration procedure, the Insolvency Code offers companies the legal framework to reorganise themselves while business operations continue. In contrast to regular insolvency proceedings, it is not the insolvency administrator who manages the reorganisation, but the executive management body or board itself, under the supervision of a court-appointed administrator and accompanied by experts with unparalleled know-how in insolvency law.
In the protective shield proceedings, the company has the option of carrying out an independent reorganisation procedure in the period between the application for commencement of proceedings and the opening of proceedings.
Our experts will prepare you for your role in the self-administration/protective shield proceedings and ensure that the proceedings are conducted in a legally compliant manner.
Our experts will support you in drawing up the necessary reorganisation plan, which can then be implemented as an insolvency plan.
How PwC Legal supports you
Our lawyers advise on:
The legal examination of reasons for filing for insolvency
The preparation of certificates in accordance with § 270d InsO, income and liquidity planning and ongoing target/actual comparison before and during the proceedings
The preparation of an insolvency petition in close coordination with the individuals bearing responsibility within the company
Identification of suitable candidates for the preliminary creditors' committee, as well as communication and coordination efforts
Communication with the court in the run-up to the filing of the application
Application to the competent court
Communication with the (provisional) administrator, the (provisional) creditors' committee, clients and creditors, as well as other stakeholders
Coordination and preparation of the reports required for the procedure and any necessary directories
Negotiation and conclusion of mass loan agreements, as well as other individual agreements that may be necessary
Examination of any existing rights of segregation and separation
Checking receivables, checking and, if necessary, reconciling the release of current payments
All business and legal aspects of reorganisation and restructuring
Preparation of a reorganisation plan
Coordination and preparation of an insolvency plan and submission of the insolvency plan to the court
Implementation of the insolvency plan
Avoiding insolvency through new restructuring instruments
Since 2021, companies threatened with the prospect of insolvency have been able to carry out a reorganisation under the Corporate Stabilisation and Restructuring Act (StaRUG) even without judicial insolvency proceedings. This opens up the possibility of intervening in creditors' rights outside of insolvency proceedings. The law provides for various instruments that enable companies that find themselves in a crisis to conduct intensive negotiations with creditors. Our experts will provide you with sound advice before the new regulations are applied, draw up a restructuring concept and also support you in all other measures to stabilise your company.
How PwC Legal supports you
Our lawyers advise on:
Assessment of reorganisation alternatives in accordance with StaRUG and InsO, taking into account the prospects of success
The identification and elaboration of suitable remediation measures
The notification of restructuring plans vis-a-vis the Restructuring Court
The design of restructuring plans, as well as accompanying agreements
Conducting or facilitating negotiations with creditors
Conducting out-of-court plan reconciliation efforts
Representation in the judicial plan confirmation procedure
More than one plan B up our sleeve
A crisis always harbours an opportunity. Especially for the competitors of a company in crisis, judicial and extrajudicial reorganisation and restructuring proceedings offer numerous opportunities to gain market share, develop new business areas and expand their own business. We remain at your disposal for all necessary measures pertaining to the complete or partial takeover of another company in judicial or extrajudicial proceedings under the application of the Insolvency Code. In this context, we also examine any rescission and liability risks in the event of a takeover, and advise you holistically on all necessary measures to be taken in the target company.
Distressed M&A, in particular, requires a high degree of know-how, planning and preparation, as well as speed on all sides. Our experts possess many years of experience with transaction business. We support the purchase or sale of companies or parts of companies that are in crisis. We also advise on the implementation of structured M&A processes to market insolvent companies. In addition, we advise investment companies on the strategic divestment of low-yield portfolio companies.
How PwC Legal supports you
Our lawyers advise on:
Acquisition of companies in crisis outside and within judicial reorganisation or restructuring proceedings ("distressed M&A")
Legal due diligence processes
Examination of the risks of legal challenges and liability in the event of a takeover – in the context of insolvency proceedings concerning the assets of the target company
Sounding out and approaching potential buyers and sellers
Operational restructuring measures
Structured M&A processes, taking into account all factors relevant under crisis and insolvency law
Analyses of weaknesses in corporate planning and the identification of realistic opportunities for sustainable growth
The implementation of transaction solutions in complex crisis situations
Advising Executive Bodies
We remain by your side in times of crisis.
If you, as an executive representative or supervisory body of a company, are affected by its extrajudicial or judicial reorganisation or restructuring, we protect you from possible liability risks. If, following a failed reorganisation or restructuring, liability claims or legal challenges (Sections 129 et seq. InsO) are asserted against you by the insolvency administrator, the administrator of assets or by participating creditors, we will also advise you on safeguarding your rights.
Corporate crises and insolvency proceedings are part of any economic cycle. If there are grounds for insolvency, management must file an insolvency petition for the company without delay. Otherwise, there is a risk of liability.
Our lawyers specialising in insolvency law, therefore, are on hand to advise companies and their executive bodies comprehensively in the run-up to liability-relevant decisions and measures.
How PwC Legal supports you
Our lawyers advise on:
The examination of liability risks for you as an executive body or shareholder of a company in a reorganisation or restructuring phase
Advice in connection with further liability risks of senior executives in the company
Recommendations for action to avoid liability risks at every stage of restructuring
The examination and defence of liability claims, in particular, those due to payments after the company has become insolvent
Liability-relevant decisions and measures in advance
The elaboration of the facts relevant for a potential case of liability
Development of liability avoidance strategies
Representation of managing directors; defence against claims asserted vis-a-vis managing directors, in particular, due to allegations of a delay in filing for insolvency
Advising creditors and other stakeholders
The insolvency of a contracting party often represents a high economic risk even for economically sound creditors, which can lead to a total loss of their own claims and, in the worst case, to the distress of their own company. Our experienced lawyers help you to identify potential risks at an early stage, to successfully protect yourself and to safeguard your rights.
If you are affected by the reorganisation or restructuring proceedings of a third party (as its creditor, customer, supplier or similar), we will also advise you. Whether it concerns an out-of-court or a court-ordered reorganisation or restructuring procedure, we ensure that you, as a supplier, customer, creditor, financier or the like, have the best possible chances of success. Preserve and implement your legal position.
How PwC Legal supports you
Our lawyers advise on:
Prevention of bad debts in the context of an insolvency
Hedging through the agreement of security interests
Valuation of collateral – including a review for the impact of insolvency proceedings on that collateral
Preparation of analyses, review and evaluation of solution proposals submitted by the insolvent company, negotiation and implementation of economically reasonable alternatives – taking into account the legal framework conditions
Advising suppliers and customers, as well as other contractual partners of an insolvent company, including in the case of further provision of services in the event of business continuation
Examination of insolvency plans that interfere with the legal position of the creditor, taking into account the interests of the client
Influencing the design of insolvency plans during their preparation, while taking into account the legal position of the client
Risks of avoidance in insolvency
Conversion of supply chains and termination of contracts
Inclusion in reorganisation negotiations
Filing of protective letters
Provisional insolvency of a contractual partner
Applications for claims
Involvement in creditors' meeting and creditors' committee